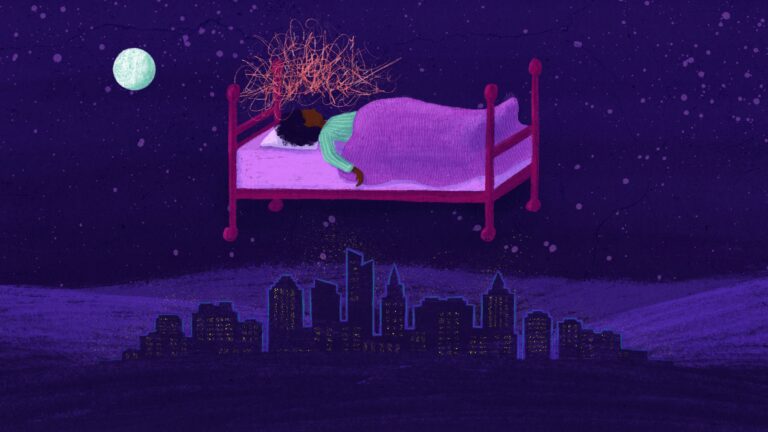 Black women face continual stress in America with issues of both gender and race playing a role in their stress experiences.

For centuries, Black women were forced to take on the roles of mother, nurturer and breadwinner out of economic and social necessity. This Superwoman role has been necessary for survival. Also, Black women are continuing to experience gun violence, safety issues and poverty in their communities. These experiences accumulate and result in chronic stress, according to a study in the National Library of Medicine: Superwoman Schema: African American Women's Views on Stress, Strength, and Health.

Chronic stress is linked to adverse physical and mental health conditions including cardiovascular disease, lupus, insomnia and obesity. Stress can also present itself through migraines, hair loss, panic attacks, weight gain, depression and especially poor sleep patterns. Getting adequate sleep (a recommended 7 to 9 hours) is important for good health and well-being. During sleep, the body works to support healthy brain function and maintain physical health.

Chronic stress can cause the nervous system to maintain a heightened state of chronic arousal for extended periods of time. Being in a constant heightened state of alertness can delay how long it takes to fall asleep, disrupt sleep and cause rapid, anxious thoughts to occur at night. Insufficient sleep then triggers the body's stress response system, leading to an increase in stress hormones, which further disrupts sleep. It becomes a vicious cycle between stress and loss of sleep (Insomnia).
Black women are disproportionately affected by insomnia. They are more likely to get less hours of sleep and have difficulties falling asleep and staying asleep. For Black women, their role as Superwoman in their communities can lead to these dysfunctional sleep patterns and postponing self-care. 

The feelings of needing to be Superwoman and take care of everyone can produce feelings of guilt when Black women want to take time for self-care including sleep. Regularly staying up late to finish tasks or thinking about daily responsibilities when trying to fall asleep contributes to inadequate sleep and additional stress. With the chronic stress of daily life for Black women, sleep gets put on the back burner.
References:
Black mothers trapped in unsafe neighborhoods signal the stressful health toll of gun violence in the U.S.
Superwoman Schema: African American Women's Views on Stress, Strength, and Health
Download and distribute powerful vaccination QI resources for your community.
Sign up now to support health equity and sustainable health outcomes in your community.
MCED tests use a simple blood draw to screen for many kinds of cancer at once.
FYHN is a bridge connecting health information providers to BIPOC communities in a trusted environment.
Discover an honest look at our Medicare system.
ARC was launched to create a network of community clinicians to diversify and bring clinical trials to communities of color and other communities that have been underrepresented.
The single most important purpose of our healthcare system is to reduce patient risk for an acute event.
Risk, protective, and biomarkers of dementia in Indigenous peoples: A systematic review
HHS Provides $131.7 Million To Support Behavioral Health
The Doctor Won't See You Now: Combatting Racism in Health Care
centerforhealthjournalism